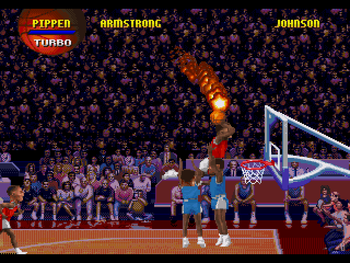 Check out this picture of MJ in NBA JAMS (arguably the best game of our generation)
I can basically hear the velvety baritone of the announcer bellowing, "He's HEATING UP!!"
Currently this applies to both my environment and my training. Let me explain:
1. Calabasas is going through a ridiculous heat wave... It hit 113 degrees yesterday. To further clarify, 113 is the temperature where your eyeballs start getting hot. I was biking down a hill and the wind hitting my face literally was warming up my eyeballs in their sockets. Thankfully, my commute is about 20 minutes so I took the actual workout inside on my powerbeam pro trainer. My eyeballs didn't get a chance to turn to eye gu but I am convinced they were close to the eyeball melting point.
2. My training is heating up in the same way MJ was. The main stuff is going really well. This last weekend I hit a race simulation workout on Saturday. 75 miles of riding and 7.5 miles of running. The 75 mile ride started out under control but fast. I hit the turn around only to see one of the members of Erin Baker's triathlon team. Just when I was thinking, " you are about to be shot out the back, Hombre," he blew by me like I was on a tandem tricycle with a freeloading presubway Jared on the back. Not so fast. I started giving it a bit of juice and he let off the gas and I was on him again. We rode the next 20 miles with a bit of a tailwind at 25+ mph. Too hard for ironman but I wanted to see if getting out of my zone would make me blow up and how fast.
I left him at mile 40 of my ride and settled back into my pace with a massive wind right in my face. I was through mile 56 @ 23.2 mph. My front tire flatted shortly after that and a quick fix later, I rode in to start my run... I changed, loaded up with water and set out. The first 5k felt good and was at 7:24 pace. I backed off a bit after loading up on water and the next 4k was a bit slower. I finished the run @ about 7:05-7:10 pace with a total average of 7:27 pace for 7.5 miles. No blow up despite getting carried away on the bike.

Overall stats 22.6 mph for the bike with a good portion into major headwinds, 7:27's for the run in the proper zone. He's heating up!
Stay tuned for a bigger workout this Saturday.